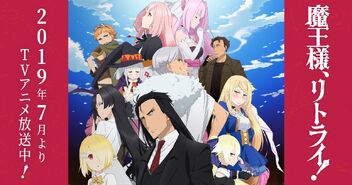 Demon Lord, Retry! (魔王様、リトライ! Maō-sama, Ritorai!) is an ongoing anime series based on the light novels and manga of the same name.
Summary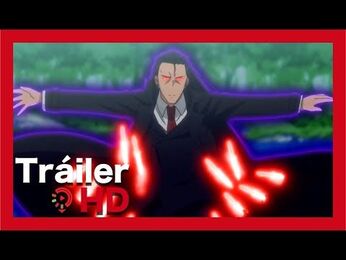 Oono Akira is a regular guy who works at a company that manages an online game. He often plays the game as his character "Maou" (Dark Lord). But one day, when he logs on, he is whisked into the game's fantasy world as his character. There, he meets a one-legged girl, and begins his adventures alongside her. But as he is a powerful "Dark Lord," various nations and holy maidens journey to defeat him, and he stirs up trouble everywhere he goes. 
Main Characters
Staff
Animation Studio: Ekachi Epilka
Director: Hiroshi Kimura
Series Composition: Ōka Tanisaki 
Character Design: Chiyo Nakayama 
Art Director: Tomoko Shimomoto 
Sound Director: Nobuyuki Abe
Music: Satoshi Hōno
Color Design: Yukiko Ario
Director of Photography: AMGA
Cast
Kenjiro Tsuda as Hakuto Kunai
Aki Toyosaki  as Angel White
Chiyo Ousaki as Mink
Haruka Tomatsu as Killer Queen
Hitomi Nabatame as Mikan
Kanon Takao as Aku
Kaori Ishihara as Luna Elegant
Kazusa Aranami as Kyon
M.A.O as Organ
Rina Satou as Yū Kirino
Showtaro Morikubo as Zero Kirisame
Sora Tokui as Yukikaze Suzuna
Kinoshita as Tron
Tomokazu Seki as Isami Tahara
Yurika Kubo as Momo
Episodes
Community content is available under
CC-BY-SA
unless otherwise noted.